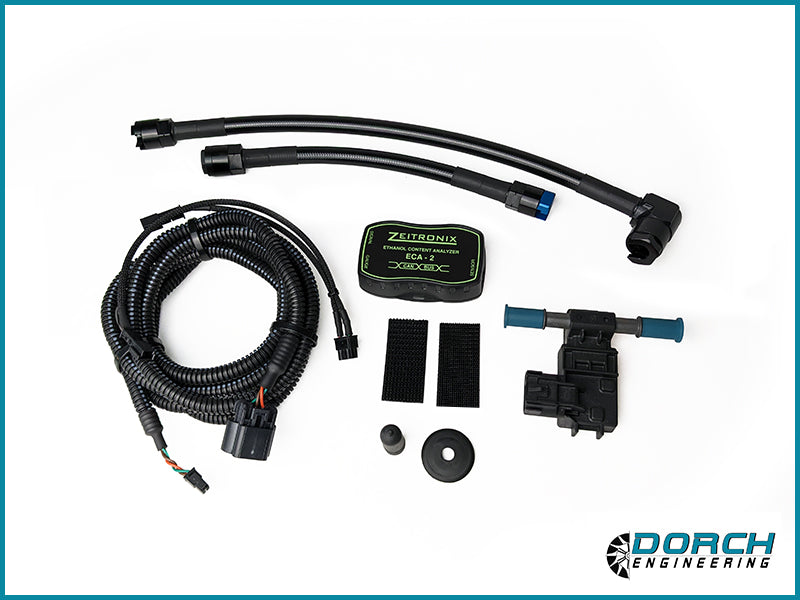 Gen1 B58 Flex Fuel ECA – Plug and Play
---
Now that Gen1 B58 tuning software supports true CAN-based Flex Fuel tuning, we are offering our own plug and play ECA solution! With MHD and BM3's new features, there is no longer much of a need for Bluetooth ethanol sensors. A CAN-based ethanol sensor, can not only monitor ethanol content, but it will also directly communicate with the DME for full Flex Fuel operation! With a Flex Fuel tune, the DME will automatically adjust the tune from a high-powered E85 map, all the way to a pump gas map, and everything in between. This all happens on the fly, based on the live CAN-communication with our ethanol sensor. Gone are the days of doing math at the gas pump only to decide which map to flash and how many gallons of ethanol to mix!
ZERO cutting and ZERO wire-taps! This kit is fully reversible and truly plug and play. The wiring integrates into the OEM harness and hoses and sensor tuck seamlessly to allow for reinstallation of all OEM sound insulation foam and engine covers. With the ethanol sensor mounting location as close to the injectors as possible, there is virtually zero lag time on the exact ethanol mixture truly entering the combustion chamber.
Don't be fooled by our extensive and overly detailed, DIY-friendly instruction manual! You can expect this kit to add about 30 minutes to a traditional HPFP install or to take about 1 hour on it's own, depending on skill-level.

Kit Contents:
Zeitronix ECA-CAN Module
Custom PTFE Hose Set
Dorch Plug-n-Play ECA Harness
Genuine Continental Ethanol Sensor
Pre-cut Firewall Grommet
Mounting Accessories
Kit Fitment:
For all vehicles below equipped with a Dorch HPFP:
F20/21 – 140i, 140xi
F22/23 – 240i, 240xi
F30/31/34 – 340i, 340xi
F32/33/36 – 440i, 440xi
G30/31 – 540i, 540xi *
G32 – 640i, 640xi *
G11/12 – 740i, 740xi *
G01 – X3 m40i *
G02 – X4 m40i *
* ONLY UP TO 2019 Model Year
KIT NOT COMPATIBLE with 2020+ B58 Vehicles
NOTE: For all customers who already have our ECA hose/sensor sets, we also offer an "electronics only" package to get you updated to a CAN-ECA. This package will also fit nearly any other custom setup that houses a Continental ethanol sensor in a similar engine bay position. Please contact info@dorchengineering.com to see if this kit is compatible with your current sensor setup!

Installation Instructions:
BimmerNetwork operates both with inventory stocked on hand, and through "drop shipping" items from our vendors. By making a purchase from BimmerNetwork, you accept that orders will ship upon availability and inventory status with our, and our vendors products.