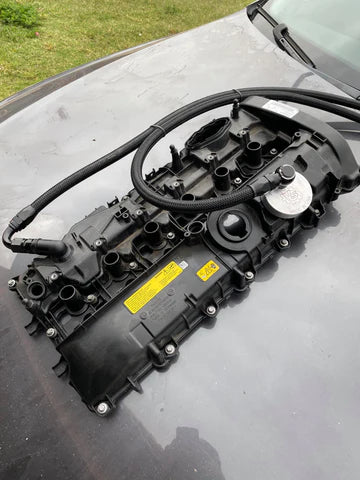 VS - B58 GEN 1 BREATHER KIT
Regular price
$499.99
Sale price
$299.99
/
---
Finally a solution to all the B58 powered cars such as the F series chassis running a bigger than stock turbo setup. On stock turbo the stock valve cover has its issues, the PCV diaphragm fail from fatigue whether or not your car is stock. poor design from the factory. 
VS has engineered, tested, and designed the ultimate solution and permanent fix for this issue.

This kit deletes the diaphragm completely and plugs the headports coming from the intake runners into the cyclone system in the valve cover without having to remove the valve cover so this makes life easier already.
Photo is beta version. Braided hose also not included 
This kit is a VTA type of kit so the hoses run down to the bottom of the subframe. You will not smell anything in the cabin
in stock 
What does the kit include?
-VS Billet PCV Delete Cap
-VS Breather Fitting
-VS Custom AN Fittings
-VS Custom AN Lines
Will this kit benefit with VS Breather Cap?
-Yes, extra ventilation helps a ton
What does the PCV diaphragm do?
-PCV system is built into the valve cover
-Diaphragm actuates with vacuum from headports

Will I pass emissions/inspection?
-Recommended for off road use only 
-Will not trigger CEL

Is this kit plug n play?
-Yes
Can I combine other catch cans with this kit?
-Yes but with modification (vta cans only)
Does the port on the intake tube get plugged?
-Leave the stock breather tube connected to it, it stays plugged this way
BimmerNetwork operates both with inventory stocked on hand, and through "drop shipping" items from our vendors. By making a purchase from BimmerNetwork, you accept that orders will ship upon availability and inventory status with our, and our vendors products.